About us - The middle of the water. Abitibi. This Algonquin word doesn't just describe where we want to be. It's who we are; where we live, work and play. It's the river, where beyond every bend, lies infinite possibility and adventure. It's the lake that's seen its fair share of canoes over the years.
Abitibi is an Algonquin word meaning where the waters part. This is where the water changes its flow and finds a new path north and into the unknown. It is also the name of the region where we live, work and where we excel every day. It's an incredible land with over 22,000 rivers and lakes just waiting to be explored. It is also the name of a river of more than 540 km, where adventure awaits us after every curve and where anything can happen. It is also the name of a lake that has seen many canoes pass over the years, since it is the meeting point between Hudson Bay and the Ottawa River, a path traveled by several pioneers of our country. Like them, we have adventure in our blood. Their respect for our natural heritage and their desire to see the world and share their discoveries inspires us. For these reasons, we are proud to rekindle the passion and sense of innovation of Bill Scott and Gerald Shepherdson. In 1960, as more and more tourists were drawn to the wilderness, interest in paddle sports grew. It is therefore in a small workshop installed in his basement, that Scott, with Gerald Shepherdson created a first canoe.
More than 50 years later, in 2015, abitibi & co. is proud to have turned a new leaf in Quebec, building on Bill Scott's passion as the largest manufacturer of composite materials boats in Canada.
Nature pushes us to continue, it makes us vibrate and gives us goosebumps. The unique moments that amaze us, surprise us, destabilize us, that's what keeps us alive. And we want to share this powerful connection. We want to send everyone to rivers, lakes and oceans. We want to give a taste for adventure and make our waterways accessible to everyone: both city and country people. We want you to fall in love with our waterways and work hard to protect them. We want to share the intensity like the tranquility, the adrenaline rush like the sense of accomplishment felt after a day in the woods, going down a river, when you don't know what to expect around the next bend.
Let's face it, every boat we make leaves a mark. We would like to be able to change that, but in order to have no impact on the planet, we should produce nothing at all. We want to get everyone out on our waterways, but we also want to make sure that we protect and rebuild the affected natural environments.

We do our best to minimize our impact on the environment through sustainable business practices. That's why we make all of our boats locally with sustainable materials.
Made in Canada
Local all the way! We not only manufacture our boats in northern Quebec but also partner with Canadian suppliers.
Our focus is on developing local economies and lasting relationships. We are committed to high quality standards and thus choose to work with suppliers who share our values. We also are constantly on the lookout for products that are better for the environment.
Canoes and Kayaks for our team
We work with amazing people who love nature as much as we do. We believe that it is important to encourage them to play outside as often as possible. All our employees therefore have access to some of our boats. When they feel the urge to head out on the water, they are free to enjoy them with their friends and family.
Restoration
We encourage people looking to buy a canoe to restore one rather than buy a new one. Our goal is not to sell more boats. What we want is for people to go out, explore and connect with the great outdoors. We want our business to create a leverage effect and have a positive impact, both in our community and on the planet.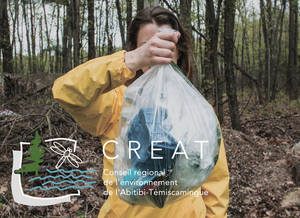 Cleaning nature
We want to preserve our natural habitats, restore them and remove the trash left behind to give everyone the chance to benefit from this vast, natural playground. We have thus partnered, within the framework of the La Chasse aux déchets sauvages contest, with CREAT, which aims to raise awareness among the population about the harmful impact waste and illegal dumping have on nature and biodiversity.
Flyfish Yukon
abitibi&co is proud to support Gabriel Rivest, who is one of its ambassadors, and his fly-fishing company, Flyfish Yukon.
For more information
Briging people outdoors
Adventures in the great outdoors combine physical challenge and cultural experience. They involve exploring our territory responsibly and truly connecting with nature, while creating memories and unforgettable experiences. That is why the guides at Exode offer you the opportunity to embark on expeditions they themselves go on in their free time.
Give a second life
We recover windshield washer containers and transform them into reusable containers. In a wink, these plastic containers piled up at gas stations are given a second life.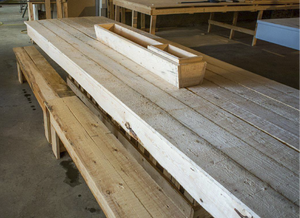 Second hand and recovered wood furniture
We have chosen to use reclaimed furniture and recovered wood to furnish our offices. Working in such an environment reminds us of our mission each and every day.